What comes to your mind when there is much fuss about a velvet floral kimono? You might be avoiding it because you cannot consider about ways to wear it.
By the way, it is an easy piece to match and it is perfect for mid-season.
You can wear it with your favourite pair of jeans, wide legged trousers, a tight dress or a tight skirt or a cloche shaped one, etc. For the upper part, if you are not a mixed prints fan, go for a monochromatic blouse or shirt. Finish the look with mules, flats, ankle boots, boots or high heels.
Time to present two of my favourite kimono outfits with the same, fabulous kimono.
Outfit No 1
When we talk about a black, velvet kimono with gold-beige brush strokes, I immediately thought about a shiny gold-olive dress. The absolute harmony in colors and fabrics. These two pieces create an unbeatable pair.
I decided to cover my legs too, because I think that the black high-heel boots give a great dynamic to the outfit. I could also go for a pair of ankle boots, mules or sandals, but the boots were a great decision.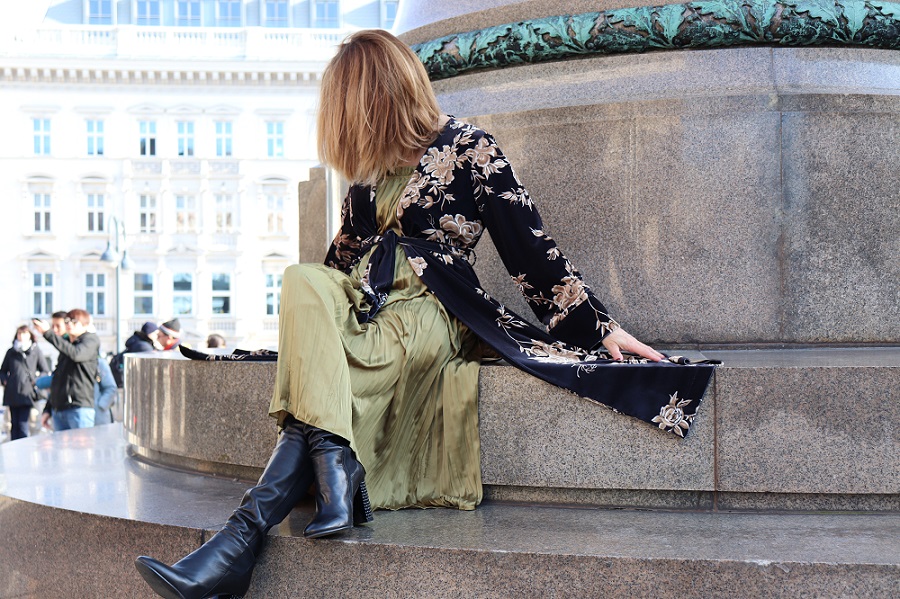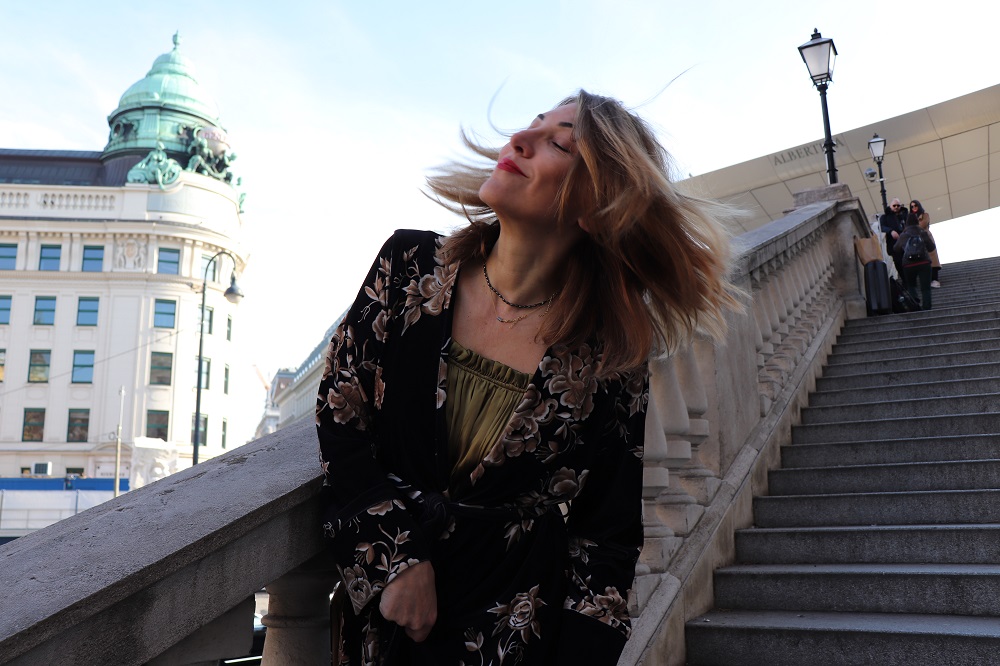 Outfit No 2
I based this outfit on color black. My black leather dungarees with a black shirt buttoned all up.
Total black gives the protagonist role to the kimono and makes it look abundant. I replaced the velvet belt with a wide elastic one for a more elegant result.
The weather is still indecisive, and we still need an overcoat. Avoid wearing a long one, not because it is not suitable but because it will deprive the kimono of its glory.
A good choice is the waisted blazer or if you have a straight line one you'd better use a belt to get the same effect.
If you do not like belts and you love light looks, wear both the blazer and the kimono loose in order to create a layered look. We love layered looks anyway.
ANZEIGE /WEARING:
My kimono brand is 
  and you can get yours here.
Comments are welcome!!