Anzeige//Every time you open your closet, you come across your favourite dress which challenges you to be worn. But then, you have second thoughts on how to wear it.
Some wardrobe pieces are worn several times. Thus, we may feel there are no other ways to make outfits out of them.
But there is always one new or maybe more inspirations for a combination you did not think of before, that makes your dress look interestingly different.
Allow me present to you, how a dress can give you 4 interesting new outfits.
1.
Dress + T-shirt
For a morning or afternoon look wear your golden pleated dress with a white T-shirt. I went for sleeveless t-shirt, because I believe it makes the look more chic. A pair of white cowboy boots, a yellow, straw, clutch bag and a scarf that are visually and stylistically bold. My favourite white sunglasses also make a remarkable presence.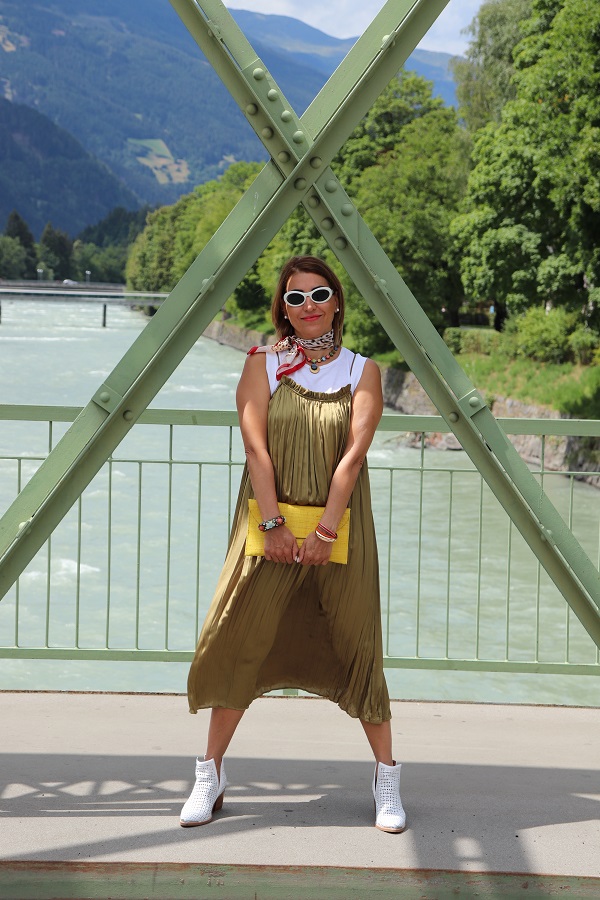 2.
Dress + Bomber Jacket
Gold pleated dress, flat shoes and a bomber jacket is all you need for this beautiful outfit. A thin, patent leather belt will accentuate the waist and make the look more elegant. It's the ideal combination for colder summer days and nights. Don't forget the mini leopard bag and the sunglasses for a look total!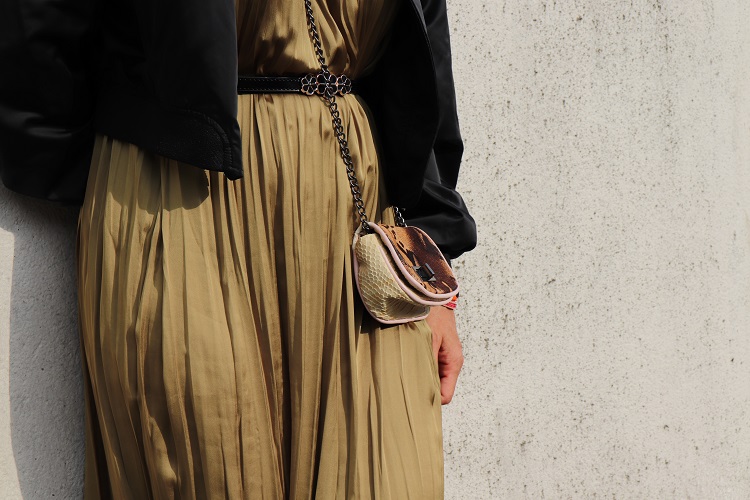 3.
Dress + pareo
A wide leopard belt and flat sandals match this outfit perfectly. The silk pareo can be combined in 3 ways.
Along with the wide, leopard belt and the flat sandals of similar colours it matches the dress beautifully.
The handmade vintage bag belonged to my mum. It was a great opportunity to use it with this outfit. Tanned skin is the absolute accessory and will make its statement with this look, both in the island and the city.
Try this option. Wear the dress and use the pareo as scarf. The result will be more than satisfying.
This 3rd option is my personal preference. A beautiful, playful combination of colours and fabrics.
4.
Dress + Blazer
A classic, black blazer, your favourite dress and a thin, patent leather belt is all you need. The belt can be worn either over the dress or over the blazer. It is a chic and classy combo. Oxfords and a classy bag accentuate the outfit and make it even more beautiful. It can be worn at work or anywhere, all day long.
So, what do you think? Did you find your match at any of the above outfits? You can even come up with your combinations now!
Do let me know!