Anzeige//
Dearest friend,
it's hard for me to decide on the protagonist outfit piece, for this article. Through a nice conversation with an artist friend of mine and the exchange of some ideas, she created an impressive choker for me. I started "building" a look around the choker and realized that the boots played the starring part.
Boots are a must and I always had a black pair in my wardrobe.  I prefer high-heel boots, because they accentuate perfectly any look, even if you match them with something "simple".
I also like flat, riding and over the knee boots. They are both easy to wear. Whichever you choose will be rewarding. They match all styles and can be worn from morning till night.
Let's have a look at some combinations:
Trousers
Straight line leggins or oversized, are worn inside the boots and look great. You can choose according to your personal style, with which kind of boots you want to go.
Dresses
Μidi or mini in a romantic, formal or classic line, is always a good boot companion.
Skirts
Μidi or mini in cloche, in A or straight line or, why not, a culotte are also great with boots.
As for the skirts and dresses, be careful that the uncovered leg part is always more than 15-20 centimeters long.
There are various colors and designs in the market. Choose according to your style and personal comfort. I also love cowboy boots because they are chic. Either pointy or square in front, with eccentric laces or not, they will meet your styling expectations.
Today's outfit below, consists of:
My fantastic choker that will certainly make a statement and upgrade the whole outfit. A pair of boots, a midi skirt in copper and a romantic, floral shirt in light blue.
My black, waisted blazer with the wide belt and the high heel black boots, create a beautiful outfit that gives me a shaped silhouette. Bag and sunglasses in similar colors complete the look.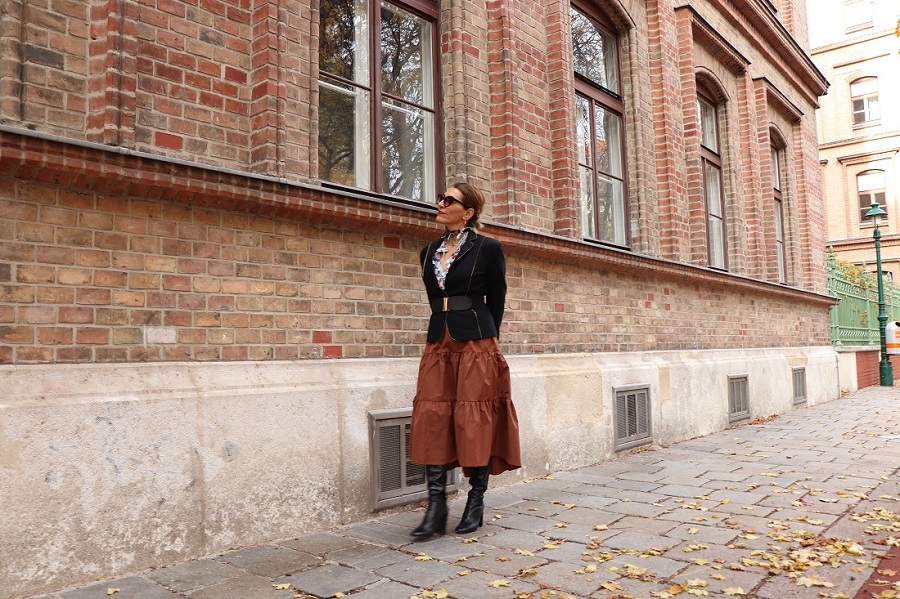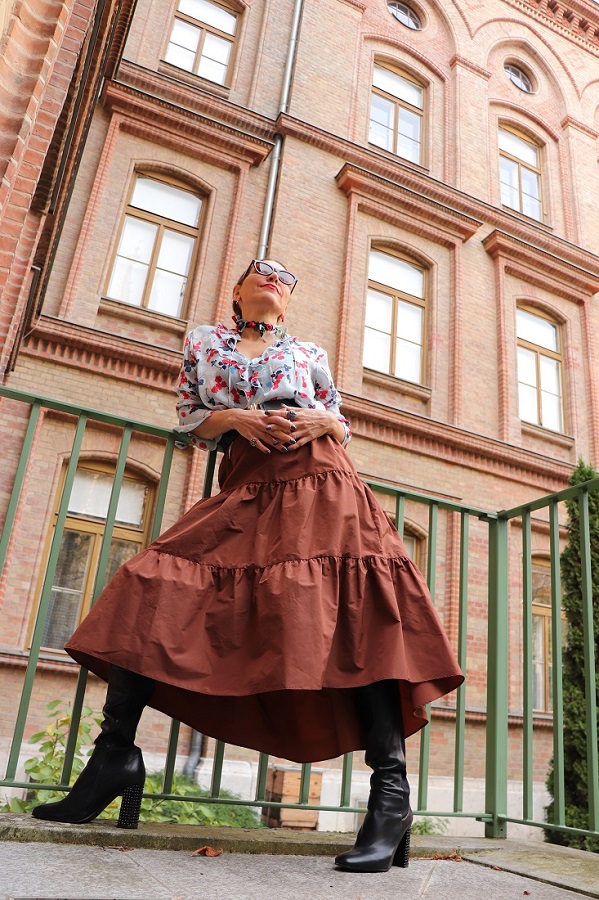 So, how will you wear your favourite boots?
Comments are welcome!