Spring is just a breath away. Along with it comes the mood for renewal. It is invigorating to go from bad to good weather but this shift, may also be bothersome.
Spring comes with the most of stylistic dilemmas due to the shifting weather. Sunny days may turn into grey, rainy ones and the other way round.
Those of us who have a strict budget for their wardrobe, usually avoid spending part of it on mid-season clothes.
The piece that women of all ages swear at, is the trench coat. The must- have piece of Spring. For some though, it may be boring, dull or serious.
It is true, that not all of us like the trench coat.
What about a black, vinyl trench coat with a belt, worn as a dress with high heel shoes like stilettos, sandals or ankle boots? Or how does a red vinyl trench coat sound? I am sure that you are considering about it, right now. But maybe it's too bold?
I think we all can go for it. Because our favourite trench coat can easily be matched with almost everything.
It's all about the length, though. Be careful that your trench coat is not shorter than the knee or only a few centimeters longer.
MATCHING TIPS:
Casual Style:
Wear your trench coat from morning till night with skinny trousers or flary or a cullote. Add a shirt, blouse or t-shirt. Wear sneakers, oxfords or ankle boots.
Sporty Style:
Make an appearance from morning till afternoon. Match your trench coat with a t-shirt, a hoodie, an athletic pair of trousers and sneakers. Impress with your trousers stuck in your army boots. Let your trench coat loose. Remove the belt.
Feminine Style:
High-heel shoes, dresses and mini or midi A-line skirts. Add a few accessories and voila!  Ready to rock.
The only skirt allowed to be longer than your trench coat is the pencil skirt. Same goes for a dress. Do not omit the belt. It is always chic.
Classy, Preppy Style
Your skinny trousers, a flat pair of shoes, a shirt and a thin pullover with the shirt details out to be seen. That's the all day or business outfit.
TIPS FOR FRESHENING UP YOUR OLD TRENCH COAT
If you are bored of wearing it, do not get rid of it. Change it.
Use a new belt or replace the existing one.
Change the buttons.
Use trucks on the sleeves or on tips of the collar.
Remove the sleeves. The result is stunning. Best applied in waterproof trenchcoats or those made of heavy fabric.
For my outfit below, I chose earthy tones.
A beige trench coat with cargo trousers in the same palette.
A black shirt and the outsiders: the plaid ankle boots. A leopard scarf, too.
A bag in white and sunglasses in black.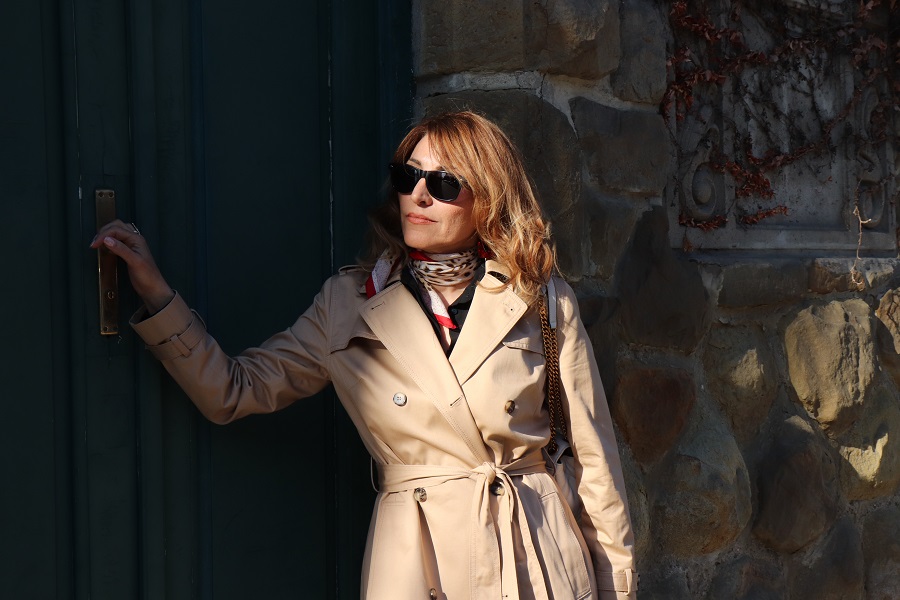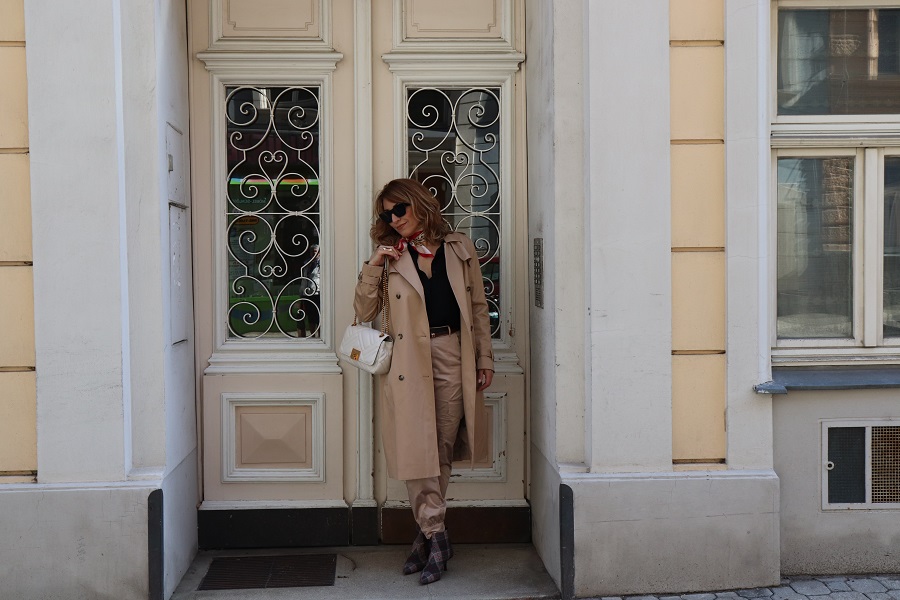 Comments welcome!

Anzeige// Trench coat:Marks & Spencer, Trousers: Zara, Shirt: Zara, Shoes: Zara, Bag: Michael Kors!