I am starting with a white and blue striped combination. It's in my mind with no further effort. It's so habitual like the Cycladic islands and the sea. This combination creates summer plans, transcends you into magical places and breezy nights out. Me in my marine blouse would not care at all against a blast of wind. It is the most timeless of combinations. It is the timeless striped, that actually follows no rules. But there are always a few tips for an improved optical result.
Get taller
Choose to wear vertical stripes from your waist down. The thiner the better.
Be simple
Choose your favourite striped piece and combine with a monochromatic piece from one of the colours of your striped one. This is a simple and easy to do trick with great results.
Impress
If you love having all eyes on you, this is the time to combine various designs and colours. Try stripes with floral prints, and geometric shapes or polka dots.
Alternatively
You are not hot about stripes. But you are not cold either. You decide to avoid them. Try wearing striped accessories like a striped bag, a striped hat, a striped pair of espadrilles or a striped pair of sunglasses.
What to avoid
Yes we like stripes. But too many stripes together are no good. Do not wear striped clothes and striped accessories together.
 Striped monochrome
Finally, I need to stress a few points for those who are monochrome and simplicity fanatics.
Wear your favourite monochrome stripes from head to toe (white and blue all over)
Vertical stripes are better worn from waist down whether you choose trousers or a skirt.
If you are wearing vertical stripes on the upper and lower parts, the wider should go down.
Stripes of the same width and same tone colour are always fine.
In general, bold pieces are attention seekers, so wear them according to the body part you want to accentuate.
Today, I go for striped monochromes as you can well see on the photos below.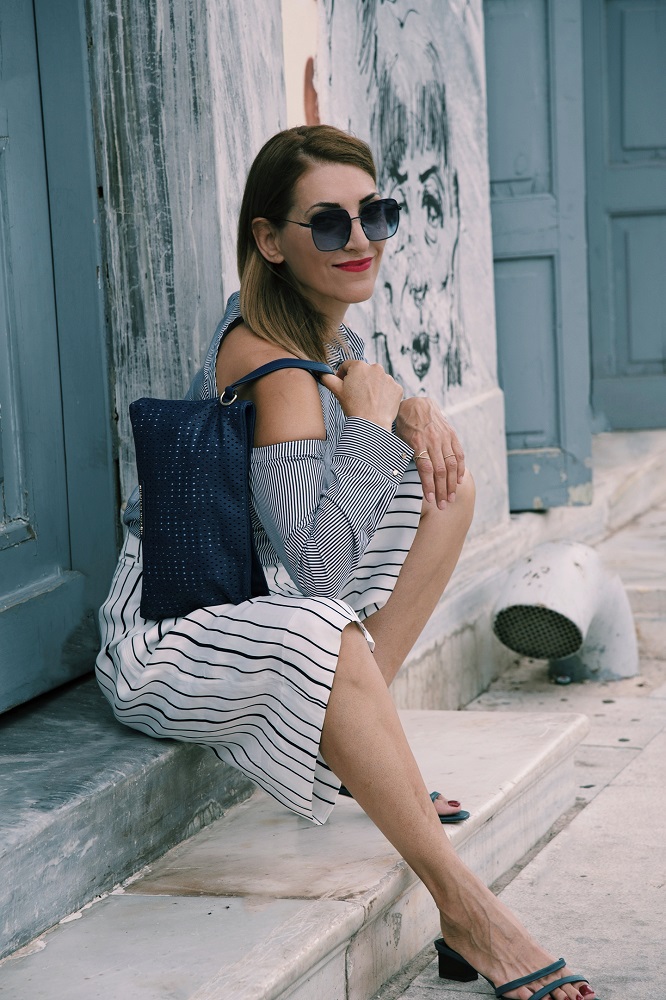 Now, that you read these tips, which will be your next striped experimentation?
Comments are welcome!
WEARING : Bermouda shorts : Superdry, shirt : Pepe jeans,  shoes: Zara, clutch: Sylvian Heach