I could not go for anything better than a Boho chic style. So, here I present it, as fresh as summer, and as cool as summer nights.
For four days, I have been visiting the beautiful mountains of Carinthia in Austria. At 1,700m height, the eyes only see green and the only sounds heard are the birds tweeting. There is no electricity there and the log cabins remind you of "Heidi".
I only wished for good weather and for my husband's good will to take some pictures of me.
It all went as planned, so today I can present my Boho Chic Style, which I consider ideal for the summer at the sea, the mountain, even the city.
Boho style is influenced by various cultures and especially the hippy and bohemian trends. British designers Matthew Williamson and Alice Temperley put it on the pedestal and according to the former it consists mainly of long, loose dresses worn with knitted waistcoats with butterfly elements on them.
So what is it that you need, to achieve the Boho chic style?
First of all, you need freedom, imagination and a light mood.
Jewelry
The more, the better. Wear necklaces in various lengths in gold and silver. Chokers are also a nice choice, made from various materials or leather strings.
Bracelets can be worn in both wrists and ankles.
Fabrics
Go for denim, floral, knits, prints, fluted etc.
Combos
-Jeans trousers with light blouses and a one-colour, knitted waistcoat or various motifs.
-A maxi, monochrome dress, or floral. You can also choose one with knitted details or a long tunique with a jeans shirt or a V neck blouse.
-A floral, short dress. Multicoloured or white with knitted details. A pajama-trousers, one colour or multi coloured with tight blouses.
-Jeans shorts in any colour with multicoloured blouses and long tunics.
-Capri trousers with blouses or short dresses in A line.
Accessories
Choose wide belts, or thin ones with metallic buckle.
Beaded ornamented leather belts or made of many leather laces. A fully beaded belt is also a match.
For the head, choose a straw hat that suits your taste, or one made with a fabric with frayed ends. A headscarf or turban are also great.
Wear the scarf as a band or cover the whole head and tie it at the back (think of Johnny Depp in the Pirates of the Caribbean).
Shoes
Wear your favourite sandals or wooden sabots or cowboy boots or ankle boots.
Today's look is a mixture of all the above and can easily wear it not only on your holiday but also in the city.
I hope that it will inspire you!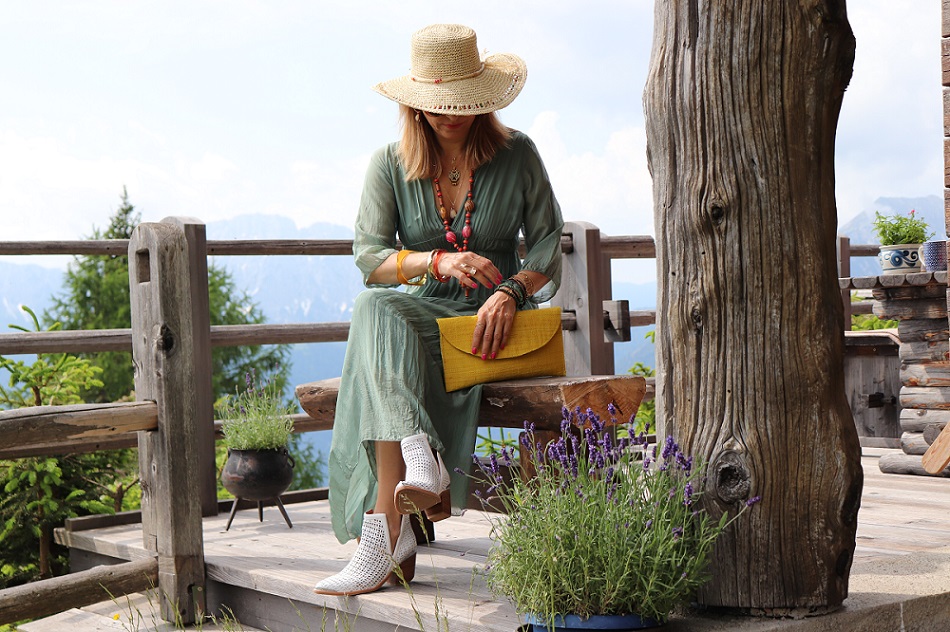 Comments are welcome!