We all remember our favourite denim or plaid salopette skirt of our childhood and teenage. Most of us, had the pleasure of wearing one with pride and we are always romantically nostalgic about it.
The salopette skirt of our youth is now back fully renewed and full of new stylistic proposals.
Its newness is mainly due to the use of contemporary materials and designs. We also live in a time, when there are no stereotypes in fashion. The same goes for the salopette skirt, being turned into an agile piece for various styles.
Now, let's have a look at the various options of the salopette skirt.
Depending on the circumstances and your personal style, you can go for a mini, a midi or a maxi in A line, bell shaped or pencil. As for the fabrics go for leather, denim, linen, viscose etc.
See some of my ideas on how to match it below.
For your morning or afternoon walk
Choose a light, airy fabric or denim and add a t-shirt, a shirt or a sleeveless blouse that leaves your shoulders open to view. It looks pretty, both with tight and loose blouses and shirts. This is thanks to the height of the skirt that reaches just below your  bust. It is a clever choice if you want to hide some waistline.
Choose your shoes as you like.
Cowboy boots, sandals, espadrilles, platform sandals and sneakers are all a match. As for bags, go for a straw basket, a straw shoulder bag, a woven one or even a backpack.
For your night out
If you are looking for something special for your night out, the salopette skirt should be made of a quality fabric. Satin and silk fabrics are great for night looks and go perfectly well with high heels. In a previous, Fall article I also give some ideas on how to wear a leather salopette skirt. You can see it here.
For your holidays
Liberate yourself and wear your bust top instead of a blouse or the upper part of you bikini or a cropped top. Grab your favourite flip flops or espadrilles, wear a hat and fly off!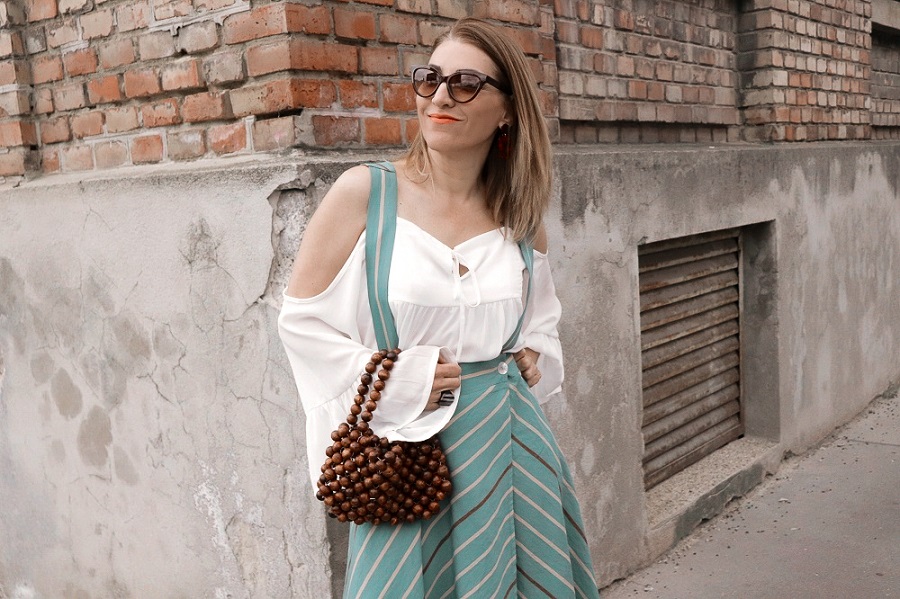 WEARING:
Salopette skirt : Ozai N Ku, Blouse : old, espadrilles : Andreas shop Madrid, Bag : Mango
Your comments and questions are all welcome!