In some previous articles I have suggested that every piece of our wardrobe whether new or old, gives us plenty of alternatives.
Surely, some of these timeless pieces have a potential adaptability to fashion trends and personal mood too.
In this article, I will refer to those pieces that were the hot spots of years past. They have accompanied some beautiful evenings or some relaxed mornings out. They might have also become your 'second skin' and you might have spent endless days wearing them, from morning till night. Then, you got bored of them but you kept them preciously in your wardrobe.
Why not give those pieces a second chance?
Let's use them again in completely new framework!
Here are some ideas!
Use an ethinc or silk shawl that you once used to cover your shoulders with, as a skirt or top.
Use your scarves given to you by your mum or aunts, to decorate a ponytail or wear a beautiful bandana on your forehead to add character to your look.
Wear your nice silk dress, the one you wore at your best friend's wedding, with flip flops and just go everywhere in it.
Get your favourite pants shortened or make a bermuda and wear it with sneakers, flip flops or sandals.
Wear your bathing suit with your favourite wide pants and go for an early evening apero.
This is how I started wandering in the wardrobe time capsule, and I found some forgotten pieces to start out new outfits with.
Outfit 1
The black salwar is now 20 years old and has been worn in various ways. Now, I have decided to wear it with my bathing suit and my black kaftan. I am so glad I created an outfit to fit my holidays and mostly an outfit that I can wear for the biggest part of the day.
Outfit 2
This is my favourite bermuda-salwar in green colour and it is also a stylistic trademark of the past.
I might not remember its exact age, but I surely remember the glamorous summer looks with this bermuda worn with high-heel sandals and halter blouses. Now is the time for it to accompany my morning and afternoon walks in the city, the island or my holidays in general.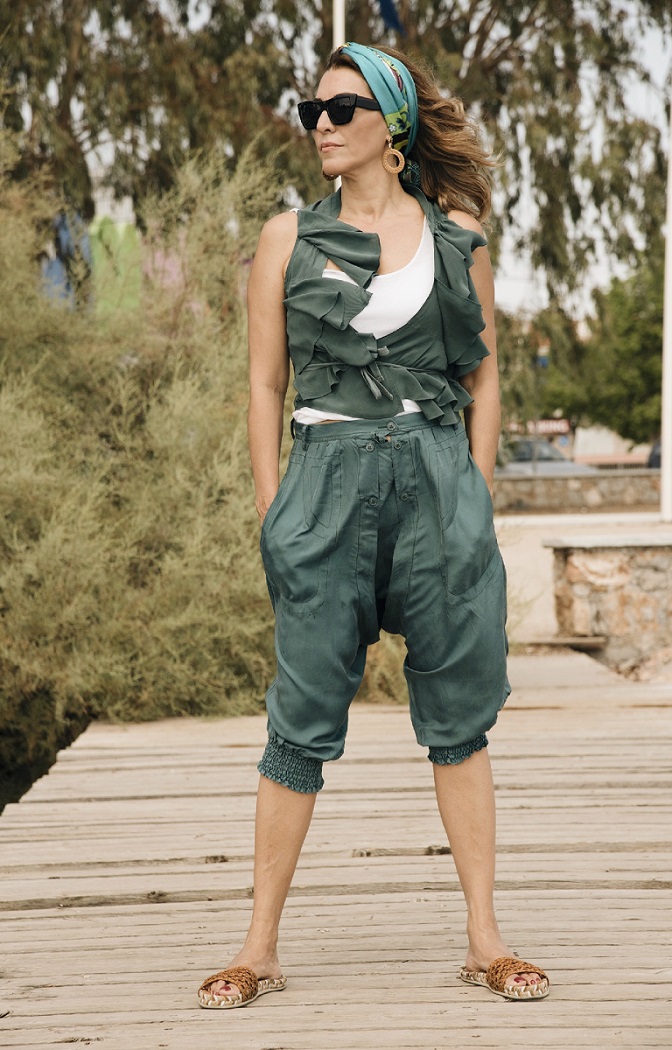 So, open your wardrobe and look for oldies that will help you create new summer outfits. I am certain that you will be able to be inspired and create more than one looks.
Comments are welcome!!