Grey just like blue, are usually put under the autumn and winter colors' list. You already know, I love colors very much but mostly in winter. They give me an uplifting mood on those grey days.
But in the Summer, I prefer basic colors and monochromatic outfits. Tanned skin looks aethereal and très chic with monochrome clothes.
Grey is rather misunderstood and it is true that it can be wonderfully worn in the Summer too.
These are the Do & Don't:
Do:
Grey can be worn from morning till night or for a special occasion. Stand out in a silver cocktail dress.
It goes well with all other shades of grey. This is a special characteristic. Black for instance is not nice with other black shades. Always avoid various shades of black, since they make outfits look cheap and shabby.
Match grey with bold colors like dark green, pastel blue, pink or mint as well as with all other basic colors like brown, black and white.
It goes well with plaids, stripes and florals.
Don't:
Classic grey clothes do not really work out well. They look obsolete and boring.
Grey is not an eye-magnet. It is neutral unless you add colour to it. A grey man's suit with a dark green shirt with white flowers and high heels or a satin grey backless dress with high heels can make a real difference, though.
Grey can make you look pale. So, go for the shade of grey that truly matches your skin. Make- up helps to liven up your appearance, when you wear grey colours.
Today's outfit consists of a classic man's pair of trousers, a white and silver top and a grey tunic. I bought the tunic and espadrilles on a trip in Madrid, thinking about how practical these pieces will be for my holidays. Later, I decided to create an urban look inspired by the trousers mainly. I added a bag and sunglasses of similar colors.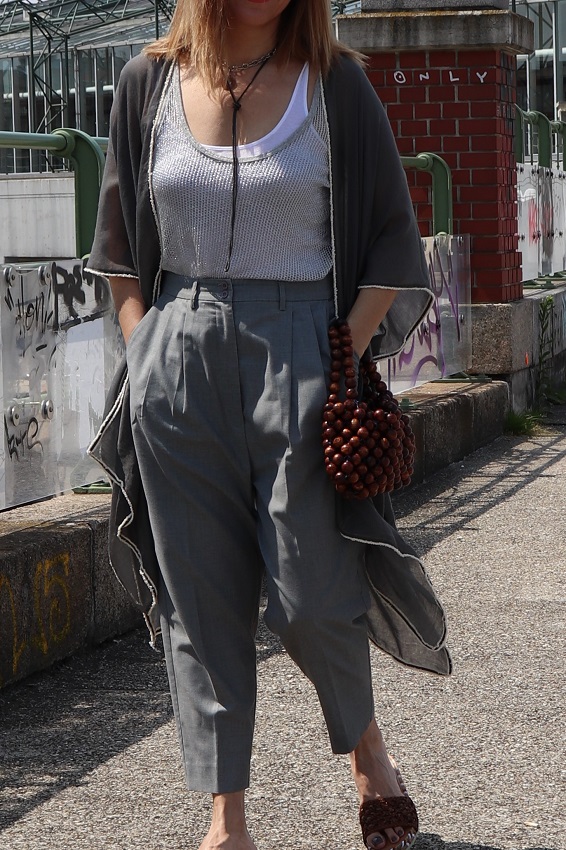 So, what do you think about this urban outfit? I think it's chic, minimal and quite versatile.
Comments always welcome.