A floral print piece definitely deserves your attention and admiration. Have you counted how many times you have fallen for it? The typical Spanish florals of DOLCE GABBANA cannot go unnoticed.
I personally love florals regardless the season. I need them on those grey days in Winter. I feel more ravishing in them. A total black outfit (coat, shoes, pullover) goes great with a floral pair of pants or a floral skirt. Easy and eccentric at the same time. Bingo!
Today, I will try to inspire you with some combinations, both with strong florals or retro floral patterns.
The Boho Style
Go for floral skirts and dresses, in any length. Match with leather belts, ankle boots and a jeans jacket. Add many statement accessories.
You can also be perfectly right when choosing a floral dress with jeans. Choose a knee length dress or near the ankle. Looks exotic, doesn't it?
The Romantic Style
Those floral dresses or those poodle skirts, either long or knee length, can be worn with ballerinas, sandals or heels. What is missing is a beautiful, romantic scenery at the back, preferably the countryside.
The Casual style
Jeans skirts, trousers and bermudas love floral shirts or blouses. Wear your oxfords, sneakers, ankle boots or ballerinas for absolute comfort.
The Artsy Style for eccentric personalities
Let your imagination thrive. Match your floral prints with other patterns. Stripes, plaid etc.
A striped jacket with floral trousers or a floral dress. Dare match this plaid skirt or that plaid pair of trousers with a floral shirt or blouse. Dare to be bold and impress.
Many fashion houses love these combinations. And so do I!
Look at the following outfit. If you love monochromatic outfits, minimal and earthy tones, this is for you.
A retro, floral, high waist pair of trousers with a white shirt and oxfords.My trench coat cape goes so fine with the floral trousers and the A line shirt.And why not upgrade the outfit with a pair of sunglasses and a lovely bag?
So? What do you think? To do or not to do?
If you are not convinced yet, keep with your monochromes. A good idea is to add a floral scarf or hold a floral bag. Or wear a pair of floral shoes. Or even better all of them.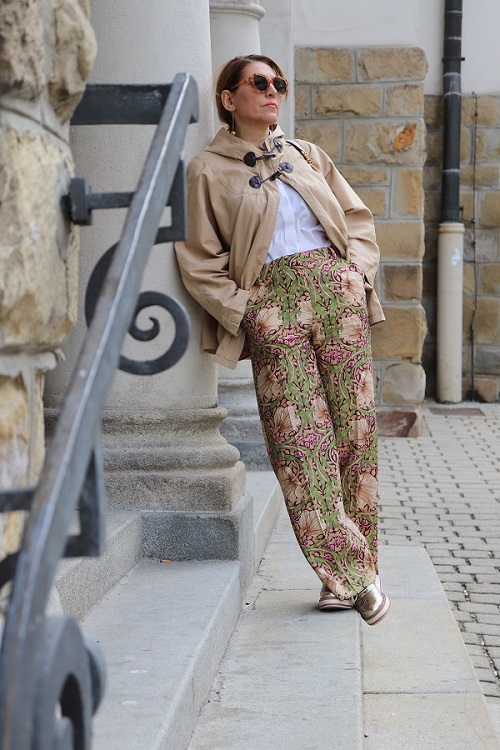 Comments always welcome!